If you have already decided that you are going to host your application on a dedicated server, the next question you will want to answer is which dedicated server is right for you. In this article we will try to make it easier to understand some of the differences between the various server platforms XLHost uses. This article is the first in a multi-part series where we will cover all aspects of dedicated server hardware.
Platform
One of the most important things you will want to consider when purchasing a dedicated server from any provider is the platform that the server is built upon. In the screenshot below of XLHost.com you can see that we list the platform for every dedicated server we offer. The download link will even download the PDF from the vendor that has all of the specifications.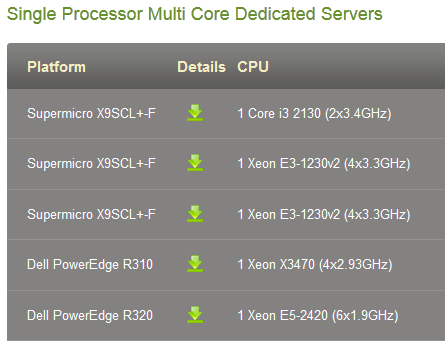 The platform is important because (among other things) it determines the following:
The count and type of CPUs
The maximum quantity, form factor, and type of hard drives
The maximum RAM a server can use
The quantity of NICs in the server
In the screenshot above those five dedicated server packages represent three similar, yet entirely different server platforms, lets take a look to see just how different they are.
| | | | | | |
| --- | --- | --- | --- | --- | --- |
| Platform | CPU Count/Type | Max RAM | Disk size/count | RAID | Generation |
| X9SCL+-F | 1/Intel LGA1155 | 32GB | 3.5"/3 | N/A | current |
| PowerEdge R310 | 1/Intel LGA1156 | 32GB | 3.5"/4 | 0,1 | previous |
| PowerEdge R320 | 1/Intel LGA1356 | 375GB | 3.5"/4 | 0,1,5,10 | current |
There are a few things you should notice here. First, although these are all single CPU server systems they each have a different socket. Second, both the X9SCL+-F(Ivy Bridge) and the PowerEdge R320 (Sandy Bridge-EN) are both "current" generation products. Third, would be the maximum RAM XLHost can install into a dedicated server using these platforms.
Since they are the closest direct comparison, we will focus the rest of this article explaining the differences between the X9SCL+-F and the PowerEdge R320 based dedicated servers.
Wimpy cores vs. Brawny cores
There will be an entire article dedicated to choosing the right CPU for your dedicated server but I wanted to explain a little bit about the differences in the CPUs. The fastest CPU you can install into an X9SCL+-F is a E3-1290v2, this is a 4 core, 8 thread 3.7 GHz (14.8Ghz total) CPU. The fastest CPU you can install into a PowerEdge R320 is a E5-2470, this is an 8 core, 16 thread 2.3 GHz (18.4GHz total) CPU.
You might expect that because the E5-2470 has 8 cores, and the E3-1290v2 has 4 cores; that the total combined clock speed of all cores in the E5 would be double that of the E3 but there is only a 3.6GHz gap between the two CPUs. This is part of the ongoing debate about (More lower clocked) Wimpy cores vs. (less higher clocked) Brawny cores.
In some benchmarks the E3 1290v2 actually performs better than the E5-2470.
The bottom line when choosing a platform based on the CPU it supports is to know whether or not the application you will be running can use multiple CPU cores efficiently. If the application cannot, you would definitely want a higher clocked CPU.
Generation matters
Although both the X9SCL+-F and the PowerEdge R320 are based on current generation Intel chipsets, the X9SCL+-F uses Ivy Bridge while the R320 uses Sandy Bridge-EN. Ivy Bridge being a newer generation product will provide some performance advantage over the Sandy Bridge-EN part.
RAM is (almost) everything now
The primary reason that you would choose an R320 vs. a X9SCL+-F for your XLHost dedicated server is if you think you will need more than 32GB of RAM. Intel has decided to limit the maximum amount of RAM on all E3 parts (even the upcoming E3 12xxV3) to 32GB. It is fairly uncommon these days for XLHost to see a CPU running at 100%. It is highly, highly common for XLHost to see a server run out of RAM and start swapping to disk, grinding applications to a halt.
RAID/Disk choices
XLHost currently only offers hardware RAID on Dell platforms. If you require hardware RAID or more than 3 hard drives in your single CPU dedicated servers, then the R320 would be the right choice for you.
Server Manageability
Most Supermicro platforms can be purchased with or without their IPMI/BMC product which includes remote power control, KVM/IP+virtual media, and basic server monitoring capabilities (XLHost includes this as a zero cost option on Supermicro dedicated servers).
However one of the key benefits of Dell vs. Supermicro are the management tools such as OpenManage, OpenManage Essentials, and the Dell Remote Access Controller Enterprise. These tools make it a snap to manage a single server or hundreds of servers.
Conclusion
These are some good things to know about the application you wish to run on your new dedicated server(s):
Does the application use multiple cores/CPUs well?
What are the RAM requirements of the application?
What are the disk/IO requirements of the application?
What are the disk space requirements of the application?
Is the data stored on the dedicated server mission critical?
These are the important questions to ask of any hosting provider before selecting a dedicated server platform (feel free to copy and paste this when dealing with any sales departments):
What CPU options are there for this platform?
What is the Maximum amount of RAM I can install?
What disk form factor(s) (2.5"/3.5") can be installed in the server?
Disk types SATA+SAS, SATA only?
Disk controller 3Gbps/6Gbps?
How many disks can be installed in this dedicated server?
Does the dedicated server support hardware RAID?
Are the disks in the dedicated server hot swappable?
What are the available network connectivity options?
What are the platform management options?
One of the reasons we have customers come back to XLHost time and time again for their dedicated server needs is because they know that we are always happy to customize to the exact requirements of their business. We always want our customers to feel that they have gotten the exact servers they need at a fair price.
In our next article in this series we will talk about how to select the right hard drives and/or RAID levels for your dedicated servers. If you are anything like me, you can't wait for that!
As always please let us know if you have any questions by posting a comment!
-Drew